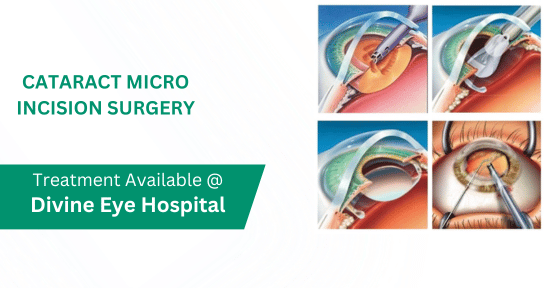 Cataract Micro Incision Surgery
A cataract is a clouding of the eye's natural lens. It starts out small at first and goes unnoticed but gradually as we age, it impairs the vision stealing the simple joys of one's life. Cataracts are the most common cause of vision loss in people over age 40 and is the principal cause of blindness in the world. Microincision cataract surgery (MICS) is an approach to cataract surgery through incision less than 1.8 mm with the purpose of reducing surgical invasiveness, improving at the same time surgical outcomes. The main confirmed advantages of MICS are the control and avoidance of surgically induced corneal astigmatism and the decrease of postoperative corneal aberrations.
A cataract starts out small and at first has little effect on your vision. You may notice that your vision is blurred a little, like looking through a cloudy piece of glass or viewing an impressionist painting. The type of cataract you have will affect exactly which symptoms you experience and how soon they will occur. When a nuclear cataract first develops, it can bring about a temporary improvement in your near vision, called "second sight.
The lens inside the eye works much like a camera lens, focusing light onto the retina for clear vision. It also adjusts the eye's focus, letting us see things clearly both up close and far away. Cataract risk factors include: Diabetes / Hypertension / Obesity / Smoking / Prolonged use of corticosteroid medications / Statin medicines used to reduce cholesterol / Previous eye injury or inflammation / Previous eye surgery / Hormone replacement therapy / Significant alcohol consumption / High myopia / Family history.
When symptoms begin to appear, you may be able to improve your vision for a while using new glasses, strong bifocals, magnification, appropriate lighting or other visual aids. Cataract surgery is very successful in restoring vision. During surgery, the surgeon will remove your clouded lens and in most cases replace it with a clear, plastic intraocular lens (IOL).
Services @ Divine Eye Hospital
Vitreoretinal Surgery In Panchkula
Avastin Injections In Panchkula
Optical Coherence Tomography (OCT) In Panchkula
Macular Treatment In Panchkula
Pediatric Eye Treatment In Panchkula
High end CSO Slit Lamp Treatment In Panchkula
Anterior Segment Surgery Treatment In Panchkula
Reduced Vision Treatment In Panchkula
Cataract Treatment In Panchkula
Cataract Surgery Treatment In Panchkula
Diabetic Retinopathy Screening/ Treatment In Panchkula
Diabetic Eye Checkup Treatment In Panchkula
Retina Examination Treatment In Panchkula
Eye Checkup – General Treatment In Panchkula
Neuro Ophthalmology Treatment In Panchkula
Retinal Detachment Surgery Treatment In Panchkula
Retina Services Treatment In Panchkula
Keyhole Surgery Treatment In Panchkula
Eye Surgery Treatment In Panchkula
Age-Related Macular Degeneration Treatment In Panchkula
Phacoemulsification Surgery Treatment In Panchkula
Glaucoma Evaluation Treatment In Panchkula
Sonomed 'A' Scan Treatment In Panchkula
Eye Muscle Surgery Treatment In Panchkula
Fundus Fluorescein Angiography Treatment In Panchkula
Basic Eye Check-up In Panchkula
Laser Photocoagulation Treatment In Panchkula