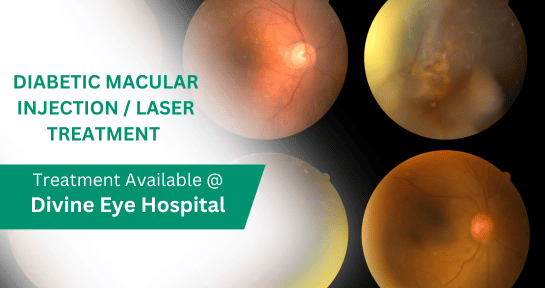 Diabetic Macular Injection / Laser Treatment In Panchkula
Macular edema occurs when there is abnormal leakage and accumulation of fluid in the macula from damaged blood vessels in the nearby retina. A common cause of macular edema is diabetic retinopathy, a disease that can happen to people with diabetes.
Diabetic macular edema doesn't always cause symptoms. But you may: Have images directly in front of you appear blurry or wavy / See colors that seem 'washed out'. If this happens to you, see your doctor right away.
High blood sugar weakens the blood vessels in your eyes. That can make them leak or grow out of control in your retina, the light-sensitive area at the back of your eye. This is called diabetic retinopathy. When fluid seeps into your retina, it can cause diabetic macular edema. The leaking makes your retina swell, which hampers the work of your macula, the special, sensitive part that gives you sharp vision.
To treat diabetic macular edema, doctors may use drugs that are injected into your eyes to help stop leaking, and to slow the growth of new blood vessels. Another treatment is a surgery called vitrectomy. This is usually done because of bleeding (not macular edema), and doctors take out the fluid that is clouding your vision and replace it with a clear solution.
Services @ Divine Eye Hospital
Vitreoretinal Surgery In Panchkula
Avastin Injections In Panchkula
Optical Coherence Tomography (OCT) In Panchkula
Macular Treatment In Panchkula
Pediatric Eye Treatment In Panchkula
High end CSO Slit Lamp Treatment In Panchkula
Anterior Segment Surgery Treatment In Panchkula
Reduced Vision Treatment In Panchkula
Cataract Treatment In Panchkula
Cataract Surgery Treatment In Panchkula
Diabetic Retinopathy Screening/ Treatment In Panchkula
Diabetic Eye Checkup Treatment In Panchkula
Retina Examination Treatment In Panchkula
Eye Checkup – General Treatment In Panchkula
Neuro Ophthalmology Treatment In Panchkula
Retinal Detachment Surgery Treatment In Panchkula
Retina Services Treatment In Panchkula
Keyhole Surgery Treatment In Panchkula
Eye Surgery Treatment In Panchkula
Age-Related Macular Degeneration Treatment In Panchkula
Phacoemulsification Surgery Treatment In Panchkula
Glaucoma Evaluation Treatment In Panchkula
Sonomed 'A' Scan Treatment In Panchkula
Eye Muscle Surgery Treatment In Panchkula
Fundus Fluorescein Angiography Treatment In Panchkula
Basic Eye Check-up In Panchkula
Laser Photocoagulation Treatment In Panchkula