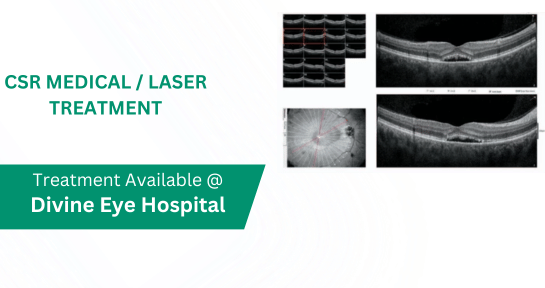 CSR Medical / Laser Treatment In Panchkula
Central serous retinopathy (CSR) is an eye condition in which fluid builds up behind the retina and affects your vision. The retina is a thin, sensitive layer of tissue in the back of the eye. It converts light into neural signals that are sent to the brain. It helps you recognize the images you see.
CSC usually affects one eye, though you could conceivably have the condition in both eyes during your lifetime. The first symptom you're likely to notice is blurry vision in the affected eye. Vision in that eye may also seem dim. Other symptoms include: darkness may exist in your central vision / straight lines may look crooked / objects may seem farther away than they really are / white objects may have a brownish or grayish tinge, making them appear dull.
CSC is more common among men in their 30s, 40s, and 50s. Women are also susceptible, but less so than men. Also, stress seems to be a major risk factor for CSC. This is because stress tends to produce higher levels of the stress hormone cortisol, which may cause eye inflammation and leakage behind the retina. People taking corticosteroids are also at higher risk.
Several types of treatment are available: For photodynamic therapy, your arm is injected with verteporfin, a drug that travels to the eye. A special cold laser is then focused on the part of the eye responsible for leaking fluid. The cold laser activates the verteporfin, which helps stop the leaking. It may also help prevent future leaks. Thermal laser treatment can also help seal the tissue that's leaking fluid behind the retina. The risk of scarring or other complications is greater with traditional thermal laser therapy than with photodynamic therapy.
Services @ Divine Eye Hospital
Vitreoretinal Surgery In Panchkula
Avastin Injections In Panchkula
Optical Coherence Tomography (OCT) In Panchkula
Macular Treatment In Panchkula
Pediatric Eye Treatment In Panchkula
High end CSO Slit Lamp Treatment In Panchkula
Anterior Segment Surgery Treatment In Panchkula
Reduced Vision Treatment In Panchkula
Cataract Treatment In Panchkula
Cataract Surgery Treatment In Panchkula
Diabetic Retinopathy Screening/ Treatment In Panchkula
Diabetic Eye Checkup Treatment In Panchkula
Retina Examination Treatment In Panchkula
Eye Checkup – General Treatment In Panchkula
Neuro Ophthalmology Treatment In Panchkula
Retinal Detachment Surgery Treatment In Panchkula
Retina Services Treatment In Panchkula
Keyhole Surgery Treatment In Panchkula
Eye Surgery Treatment In Panchkula
Age-Related Macular Degeneration Treatment In Panchkula
Phacoemulsification Surgery Treatment In Panchkula
Glaucoma Evaluation Treatment In Panchkula
Sonomed 'A' Scan Treatment In Panchkula
Eye Muscle Surgery Treatment In Panchkula
Fundus Fluorescein Angiography Treatment In Panchkula
Basic Eye Check-up In Panchkula
Laser Photocoagulation Treatment In Panchkula