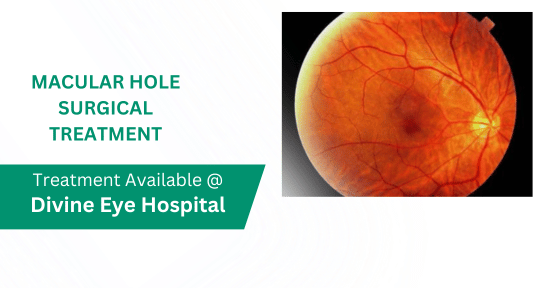 Macular Hole Surgical Treatment In Panchkula
A macular hole is a small break in the macula, located in the center of the eye's light-sensitive tissue called the retina. The macula provides the sharp, central vision we need for reading, driving, and seeing fine detail. A macular hole can cause blurred and distorted central vision. Macular holes are related to aging and usually occur in people over age 60.
Macular holes often begin gradually. In the early stage of a macular hole, people may notice a slight distortion or blurriness in their straight-ahead vision. Straight lines or objects can begin to look bent or wavy. Reading and performing other routine tasks with the affected eye become difficult.
Most of the eye's interior is filled with vitreous, a gel-like substance that fills about 80 percent of the eye and helps it maintain a round shape. The vitreous contains millions of fine fibers that are attached to the surface of the retina. As we age, the vitreous slowly shrinks and pulls away from the retinal surface. Natural fluids fill the area where the vitreous has contracted. This is normal. In most cases, there are no adverse effects. Some patients may experience a small increase in floaters, which are little "cobwebs" or specks that seem to float about in your field of vision.
Although some macular holes can seal themselves and require no treatment, surgery is necessary in many cases to help improve vision. In this surgical procedure–called a vitrectomy–the vitreous gel is removed to prevent it from pulling on the retina and replaced with a bubble containing a mixture of air and gas. The bubble acts as an internal, temporary bandage that holds the edge of the macular hole in place as it heals. Surgery is performed under local anesthesia and often on an out-patient basis.
Services @ Divine Eye Hospital
Vitreoretinal Surgery In Panchkula
Avastin Injections In Panchkula
Optical Coherence Tomography (OCT) In Panchkula
Macular Treatment In Panchkula
Pediatric Eye Treatment In Panchkula
High end CSO Slit Lamp Treatment In Panchkula
Anterior Segment Surgery Treatment In Panchkula
Reduced Vision Treatment In Panchkula
Cataract Treatment In Panchkula
Cataract Surgery Treatment In Panchkula
Diabetic Retinopathy Screening/ Treatment In Panchkula
Diabetic Eye Checkup Treatment In Panchkula
Retina Examination Treatment In Panchkula
Eye Checkup – General Treatment In Panchkula
Neuro Ophthalmology Treatment In Panchkula
Retinal Detachment Surgery Treatment In Panchkula
Retina Services Treatment In Panchkula
Keyhole Surgery Treatment In Panchkula
Eye Surgery Treatment In Panchkula
Age-Related Macular Degeneration Treatment In Panchkula
Phacoemulsification Surgery Treatment In Panchkula
Glaucoma Evaluation Treatment In Panchkula
Sonomed 'A' Scan Treatment In Panchkula
Eye Muscle Surgery Treatment In Panchkula
Fundus Fluorescein Angiography Treatment In Panchkula
Basic Eye Check-up In Panchkula
Laser Photocoagulation Treatment In Panchkula